Food and Agriculture Biomass Input-Output Model (FABIO)
FABIO provides a set of multi-regional physical supply-use and input-output tables covering global agriculture and forestry. The work is based on mostly freely available data from FAOSTAT, IEA, EIA, and UN Comtrade/BACI. FABIO currently covers 191 countries plus Rest-of-World, 121 processes and 130 commodities for 1986-2013.
For more details see Bruckner et al. (2019).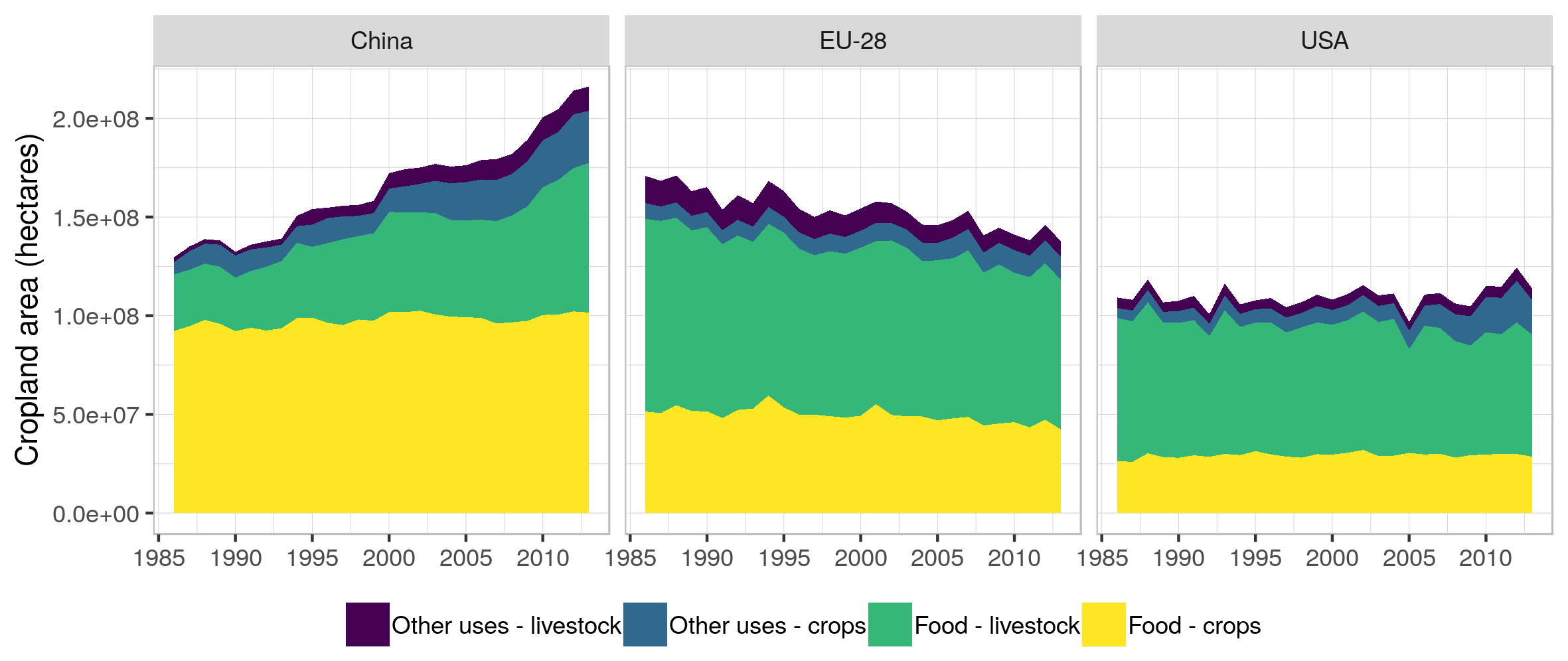 Cropland footprint of China, EU-28 and USA
Our findings reveal characteristic patterns and distinct trends for the cropland footprint of China, the EU-28 and the USA. While animal source foods take the highest but declining shares in the EU and the US cropland footprint, their place is still only second after plant-based food in China, albeit showing a rapid increase throughout the time series.
Other uses, i.e. mainly industrial non-food uses, are particularly increasing in China and the US. In the EU, we see a shift from animal-based to plant-based non-food products.
The database and all R scripts are available to the research community (under the CC-BY-NC-SA 4.0 license and the GNU General Public License v3, respectively).
Code repositories
Data publication
Version 1.1
Publications

Bruckner, M., Wood, R., Moran, D., Kuschnig, N., Wieland, H., Maus, V., Börner, J. 2019. FABIO – The Construction of the Food and Agriculture Input–Output Model. Environmental Science & Technology. DOI: 10.1021/acs.est.9b03554
Bruckner, M., Giljum, S., 2018. FABIO: Food and Agriculture Biomass Input-Output model. FINEPRINT Brief No. 3. Vienna University of Economics and Business, Austria. www.fineprint.global/briefs/fabio
FABIO Viewer
This open-source visualisation tool, based on the hybrid FABIO model, allows quick and easy access to FABIO, visualising the flows of a source product from one region to its consuming region.
Note: Please use the following reference disclaimer when citing visualizations created using this tool (replace Soyabeans, Brazil and 2013 with the appropriate values for your use case):
WU Vienna (2019): Soyabeans from Brazil (2013). Visualizations based upon the hybrid FABIO model, v1.0. Vienna University of Economics and Business. Online available at: fineprint.global/fabio-viewer (licenced under CC BY 4.0)